You are welcome to join our Sunday morning services, which will be streamed live on our YouTube Channel. Direct links to the streams can be found below:
Morning (11am) – Hypocrites!
This Sunday morning we return to Mark's gospel and chapter 7 and consider Jesus's reaction to the teaching of the Pharisees.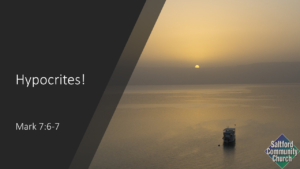 Evening (6pm) – Jesus; Saviour and Lord?
In the evening we continue our study of Philippians. This week look at Philippians 2:12-13. Is Jesus your Saviour and your Lord?