Please join us in the church building for our Sunday morning and evening services. The services will also be streamed live on our YouTube Channel. Direct links to the streams can be found below:
11:00am – How's the check list going?
This morning we continue our mini series in Psalm 15, looking at the list of positives and negatives found in its five verses.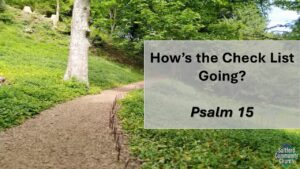 6:00pm – Maintaining peace with God
This evening we read Philippians 4:8-9 and consider Paul's "final" remarks regarding what a Christian should fill their mind with.