Please join us in the church building for our Sunday morning and evening services. The services will also be streamed live on our YouTube Channel. Direct links to the streams can be found below:
11:00am – The Syro-Phoenician woman pleads for her daughter
This morning we continue to look at Jesus' encounter with the Syro-Phoenician woman in Mark 7:24-30.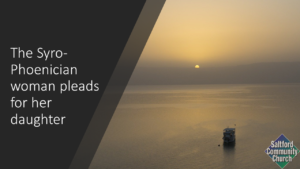 6:00pm – Have no confidence in the flesh
This evening we return Philippians 3 and look at why Paul has "no confidence in the flesh".